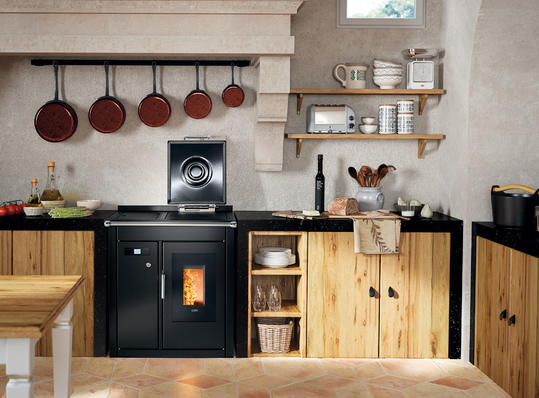 Klover Smart 80 Pellet Burning
The smaller sister of the Smart 120, the Smart 80 gives 17.5kW to water and has a cast-iron hotplate for stove-top cooking. It also has an optional hob cover, which will increase the heat to water and decrease the heat to going straight to the kitchen.
The Klover Smart 80 wood pellet boiler stove qualifies for the RHI biomass grant, this provides payments to people who use renewable energy to heat their homes.  Click on the link to find out how much you could receive.

Like the Smart 120, the Smart 80 runs at over 90% efficiency, is finished in brushed stainless steel and can be fitted with a top or rear flue. It has also been recommended by Defra for use in smoke-control areas.


If you need further information about this stove, please call 0844 3320157.
Ask a Question
Technical Details
Height: 875mm
Width: 790mm
Depth: 630mm
Fuel: Wood Pellets
Nominal Heat Output: 22.5kW
Efficiency: 90%
Nominal Output to Water: 18.8kW
Nominal Output to Room: 3.7kW
MCS Certified: Yes What's this?
Downloads