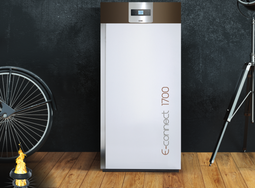 Klover E-Connect 1700
COMING SOON....
The E-Connect 1700 is the latest utility pellet boiler to come out from Klover. 15kW to water and a 92% effieicny make this boiler perfect for low energy consumption homes. WiFi enabled allows you to control the boiler from your smart device. New features include: Quartz ignition element, ignites six times quicker than standard ones.Plumbing connections come out of the top allowing the boiler to be pushed back to a wall.G.A.S - automatic cleaning brazier  The flue outlet position is interchangeable, either using the rear or top as an exit. 
If you need further information about this stove, please call 0844 3320157.
Ask a Question
Technical Details
Downloads