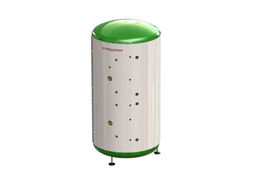 EnergyStore Bio Duo
The EnergyStore Bio Duo thermal store is high spec, well insulated and designed specifically for heating systems that incorporate biomass, so that is log, pellet or woodchip. The Bio Duo has a baffle plate to reduce mixing in the tank and two vertical internal heat exchanger coils which provide mains-pressure domestic hot water. If you need to incorporate solar thermal then take a look at the EnergyStore Bio Quattro.
Standard features:

Designed by installers for use with boiler stoves

Higher-density 100mm seamless polyurethane insulation equivalent to 600mm of foam insulation
Insulation has a Certified Global Warming Potential (GWP) of 1 so can be used in new builds in the UK, not just retrofits
Magnetic tapping shrouds/washers for a neater installation
Adjustable levelling feet
Baffle to improve stratification
Solid state copper heat exchange coils
Coils are considerably longer than those of competitors, resulting in quicker heat transfer

Flush tapping points allow quicker and easier installation. They also prevent heat loss by allowing seamless pipe insulation.

Fully customisable (available in any size or configuration) and can be designed, made and delivered to site at short notice.

If you need further information about this product, please phone 01803 712 243
Ask a Question