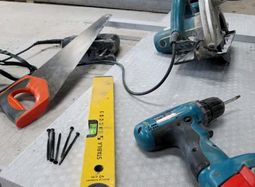 Thermalux sheets
If you are planning to install an insert stove then fire-rated Thermalux sheets offer a simple, all-in-one solution.
Easy to cut and work with, these calcium silicate boards can be glued or screwed together to create an insulated, self-supporting structure and, once sealed, can be directly plastered. They are ideal for installing an insert stove into a wall recess or false chimney breast.

Thermalux kits come with 1200mm x 1200mm sheets in 25mm or 50mm thickness and are supplied with ready-mixed glue.
Thermalux is very absorbent and so any surface that needs to be glued, plastered or dot and dabbed needs to be primed first to avoid the plaster crazing due to the water being absorbed too quickly. When the sheets have been cut to size, prime any edge to be glued. Once the chamber has been built, dust off and apply a coat of Thermalux Suction Control Primer, diluted 5:1. Application by roller is usually best but it can be brushed on. Coverage is approximately 35 ml (before dilution) per square metre (250 ml will do five 1200mm x 1200mm sheets). Once the primer has dried, the sheets can be plastered.
If you need further information about this product, please phone 01803 712143
Ask a Question