Fondis Stella 3 DFH700 Inset, Double Sided Stove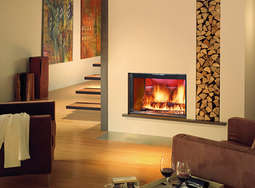 The Stella 3 DFH700 is a stunning double sided woodburning inset stove. Installed in a dividing wall between rooms or in a central column the DFH700 not only warms each side up but also adds to the sense of space. 
Like the other Stella 3 stoves the DFH700 has a frameless glass door on each side meaning that there is even less inbetween you and the view of the dancing flames. The lower edge of the door glass seals down into a groove when closed making this a very controllable stove. The door will stay in place when opened allowing the stove to be used as an open fire, just the lower edge of the glass cutting across the field of view.
Technical Data
Height: 1729mm
Width: 824mm
Depth: 581mm
Flue Diameter: 230mm
Nominal Heat Output: 13.5kW
Efficiency: 77%
Downloads
There are no specific downloads for this item
&raquo All Fondis downloads