Powerflue Chimney Fan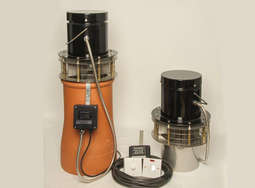 Powerflue fans are used to improve the draw during the lighting or reloading phase and then can either be switched off or left running depending on your chimney or prevailing weather. Speed control allows you to meet the needs of your flue.
Designed to work from 125mm 5" to 200mm 8" for stoves or to 175mm 7" - 225mm 9" for open fires.
Installation is very simple and are guaranteed to solve any smoking problems on your chimney.

The fans are supplied with 20 metres of cable, the exterior junction box, full speed control and a switched fused spur (a 2-pole switch). The models for closed appliances even include a stove pipe thermometer allowing the user to set the fan speed achieving the optimum stove operating temperature.

RRP £434 inc VAT and delivery to main land UK

Downloads
There are no specific downloads for this item