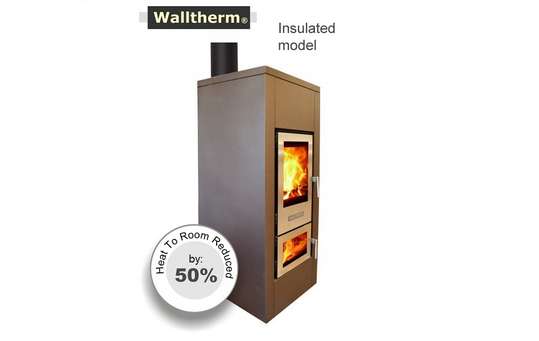 Walltherm Zebru Insulated Steel
If you are planning to install a Walltherm stove in a small room or an energy-efficient house, there are two insulated options available, one being the Zebru Insulated Steel shown here, which has a steel outer body.
These insulated models halve the heat given to the room, from 4.5kW to 2.25kW, and increase the amount of heat given to water. This means they are much less likely to overheat the room and yet can still produce enough hot water and heating for the whole house.
Please note that with the boiler connections cover the stove is 660mm wide.
If you need further information about this stove, please phone 01803 712143
Ask a Question
Technical Details
Height: 1330mm
Width: 535mm
Depth: 600mm
Fuel: Logs
Nominal Heat Output: 14.1kW
Efficiency: 89%
Nominal Output to Water: 12kW
Nominal Output to Room: 2.1kW
Downloads
There are no specific downloads for this item