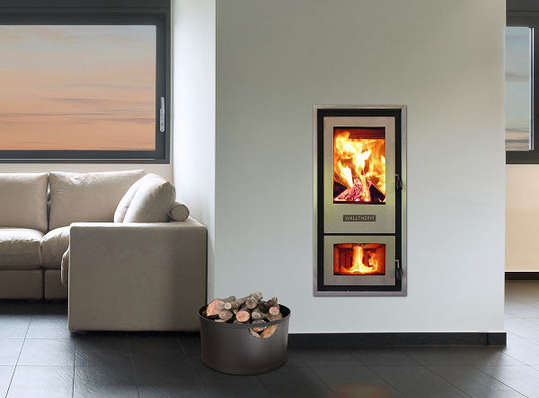 Walltherm Zebru Insert
Producing the same heat output as the free-standing Zebru, this insert version is designed to be built into a wall, creating free space and clean lines. The front face of the Zebru Insert stove extends forward so that the windows are flush with the surrounding wall. Some of the warm air produced by the stove can be ducted to other rooms or upstairs, although the majority of the heat will of course go to water for use throughout the house or to be stored in a thermal store for use as needed.
The Zebru Insert must be installed with a Walltherm controller. Its digital display enables you to monitor the flue gas temperature. And if you forget to close the flue baffle, the controller will sound an alarm to remind you as soon as the flue temperature rises above a selected value (300-400℃).

If you need further information about this stove, please phone 01803 712143
Ask a Question
Technical Details
Height: 1250mm
Width: 480mm
Depth: 550mm
Fuel: Logs
Nominal Heat Output: 14.9kW
Efficiency: 93%
Nominal Output to Water: 10.7kW
Nominal Output to Room: 4.2kW
Accessories
Walltherm controller (required)
Downloads
There are no specific downloads for this item