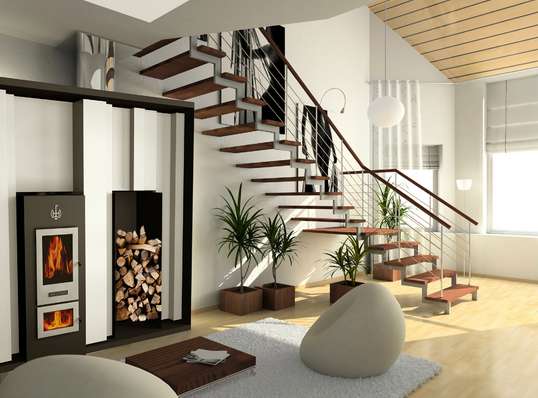 Walltherm Zebru
Manufactured in the German-speaking part of Northern Italy, the Walltherm is a simple and elegant stove with a build quality second to none. Its secret lies in using log-gasification reverse-flame combustion technology, but adapted to a domestic stove.
Here's how it works… The stove has two combustion chambers. The fire is lit in the upper chamber and produces wood gas while burning. This hot gas is pulled down through combustion jets, where it is mixed with a secondary air supply. In the lower chamber, the gas ignites and creates a second flame that generates up to 1000ºC. This burns cleanly and efficiently. The hot exhaust gases then run up through the heat exchanger, which is designed to absorb the highest amount of heat possible. Impressively, by the time the gases reach the chimney, the temperature will be less than 130°C and the house will be warm, the domestic water hot, and the thermal store heating up nicely.
As well as achieving record-breaking efficiency, and a low level of emissions, the Walltherm's double windows provide a visual treat like no other stove. The glowing log fire can be viewed through a large double-glazed panel in the main door, while the lower window shows the gasification chamber, where spectacular super-hot flames pour down through the firebed slot and curl round to enter the heat exchanger tubes at the rear.
The real innovation of the Walltherm is that it operates on natural draught, without the use of a fan. Like any stove, the Walltherm will need a good insulated chimney and properly seasoned firewood, but it will burn more cleanly and use less fuel than any other stove made today. Highly efficient stoves can be difficult to light, as they send so little heat up the chimney, but the Walltherm is lit with its smoke by-pass open, allowing the stove and chimney to come properly up to temperature before it is turned onto gasification mode.
The standard Walltherm model is the Zebru, named after a nearby mountain in the Alps where the stoves are made. Available in black or grey, it will give out 10.5kW to water and 4.5kW to the room. The combustion rate is thermostatically controlled and the air can be brought directly from outside. The stove would normally be connected straight to a thermal store, allowing you to use the heat whenever it is needed, long after the stove has gone out.
Please note that with the boiler connections cover the stoves is 660mm wide.
If you need further information about this stove, please phone 01803 712143

Ask a Question
Technical Details
Height: 1250mm
Width: 480mm
Depth: 550mm
Flue Diameter: 150mm
Fuel: Logs
Nominal Heat Output: 14.9kW
Efficiency: 93%
Nominal Output to Water: 10.7kW
Nominal Output to Room: 4.2kW
Downloads
There are no specific downloads for this item