Devron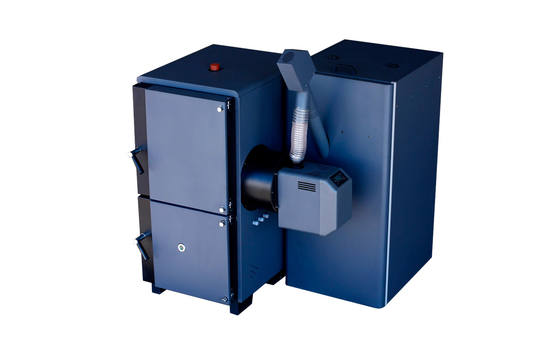 Go on, you can have a lie-in on a Sunday morning. The Arikazan Devron is a biomass boiler which combines the best of both worlds; burn your own logs and be self-sufficient for fuel, but also have automated backup which kicks in if you need a little extra top-up, if you forget to reload, if you are away, if you have run out of logs or just if you fancy a lie-in!
The Arikazan Devron has a Ventum log gasification boiler joined to a horizontal wood pellet burner with its own pellet hopper. Some dual fuel biomass boilers try to do both log and wood pellet burning in the same place and the two are very different so this is usually not a good idea. The Devron separates the two and it is only the heat from the pellet burner that is then blown into the Ventum to be captured by the tube boiler. Now if you have ever owned or run a log gasification boiler you will know the satisfaction of hearing the roar of the flames from your own logs. You will also know that it can take time to light them. The beauty of the Devron is that you can half load the log side and then when the wood pellet burner starts it lights the logs for you. Now you just have to return to refuel.
The Devron dual fuel boilers are available with either a 30 kW or 40 kW output and both share the same high 92% efficiency.
| Model | Efficiency | Height | Width | Depth | Weight |
| --- | --- | --- | --- | --- | --- |
| Devron 30 | 92% | 1380mm | 1040mm | 1050mm | 440kg |
| Devron 40 | 92% | 1380mm | 1120mm | 1375mm | 520kg |
Contact us about this stove
If you need further information or would like to enquire about purchasing this stove, please fill in the form below and we will get in touch.