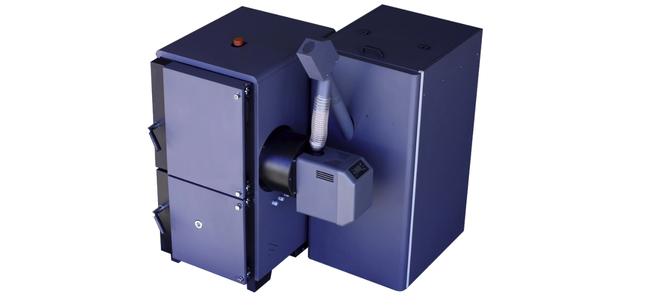 Arikazan Devron now MCS certified
Monday 6th August, 2018
Arikazan Devron now MCS certified
Arikazan Devron 30kW and 40kW now eligible for the Renewable Heat Incentive
The Arikazan Devron has been a part of our Firepower range for only a short while and recognising it as the ultimate log boiler prompted us to apply for MCS accreditation. News has just come through that the Devron 30 and 40 have both passed the exacting standards laid down by the Microgeneration Scheme and will be added to the RHI eligible list as a result.

What makes the Devron the ultimate in log boilers?
If you've got a supply of wood then the most economical solution to your heating and hot water needs is a log gasification boiler. Nonetheless it does have a couple of major drawbacks which put off many potential users  - You've got to source and process many tons of wood every year and you have to be there every day to light it and load it - so what to do when you're away or run short of seasoned wood?
The Devron provides the solution.

The Ventum log gasification boiler is joined to a wood pellet burner to provide a fully programmable unit switching from one to the other automatically depending on the fuel available.  Seasoned logs can be loaded into the larger capacity ellipsoid fuel chamber, the pellet boiler will switch on at the desired time and light the logs for you.  Once burning away nicely, the log gasification boiler just needs re-fuelling.  However, once the logs burn down, sensors will pick this up, automatically the pellets will load and ignite to take over. Returning or waking up to a cosy home is never left to chance.
Watch this video clip to check out the technology on the Ventum:
Arikazan boilers are known for their robust build quality and reliability, coupled with a highly competitive price. The domestic customer can expect the maximum RHI return of £11,795 from either of these boilers and so with the Devron 30 at just £4812+vat and the Devron 40 at £5387+vat, they are looking at a system that will cost them virtually nothing.

The commercial customer can expect returns of up to £100,000 over 20 years for either of these boilers and so their incentive is even greater.

Firepower can offer a good discount to our registered installers and dealers on this product.  Arikazan have agreed to hold last years prices for a short while to see how the market responds to this current news.